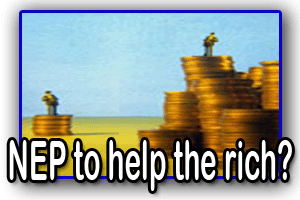 Wan Azizah herself opposed housing quota system to all bumi especially those affluent one, how Khalid can justify the quote system to rich Malay is a fair and just system.
DAP is powerless to influence PR state government although Tony Pua suggested no discount for houses above RM500,000 to bumi buyers.
Bumi housing quota system is fair to all, says Selangor

By Shannon Teoh
March 15, 2011

KUALA LUMPUR, March 15 — Insisting that Bumiputera housing quotas have been in place since Barisan Nasional (BN) was in power, Selangor Mentri Besar Tan Sri Khalid Ibrahim denied today that his administration's quotas of up to 70 per cent for Bumiputeras are unfair.

Speaking to radio station BFM in a live interview this morning, he said that Pakatan Rakyat (PR) had improved the system by allowing these units to be sold to the general public if Bumiputera takeup was low.

Khalid (picture) added that the 70 per cent quotas only applied to "one or two locations" to ensure that "the poor are not placed in places like Sabak Bernam or Kuala Selangor where land is cheap but the rich are placed in Petaling Jaya or better places."

"We solve this problem by creating an automatic release. Affirmative action must be done, if not the question of disparity takes over," he said.

Earlier reports said that the system allows developers who have completed 50 or 75 per cent of their project to sell 10 or 20 per cent of their Bumiputera lots still unsold to the general public respectively.

Developers who have completed work and obtained their certificate of fitness would be allowed to release 50 per cent of the unsold Bumiputera portion.

These would only be allowed if the non-Bumiputera units have been completely snapped up.

Selangor has been forced to toe a thin line on the issue of housing as some quarters have accused it of diluting quotas for Bumiputeras by allowing Bumiputera units to be sold to the general public.

It was, however, taken to task by BFM today for creating uncertainty for business by maintaining these quotas.

Khalid insisted that this was the best policy to undertake as it automatically solves the problem of potential unsold Bumiputera units while still ensuring the community has ease of access to housing.

He also slammed developers who have criticised the system for creating uncertainty, stating that "business is uncertain".

"But we are not increasing uncertainty, we are improving the system. It (quotas) has been done the past 10 years but we have improved the bureaucracy. This is not new, but it is better than the previous," he said.

Khalid also denied that PR was behaving like Malay right-wing group Perkasa in imposing the quota.

"Perkasa is focused on one race. Our affirmative action is for all poor. We have designed the system in such a way that in the end, there are no Bumiputera takers, then it can be taken by other poor," he said.
Related Posts via Categories