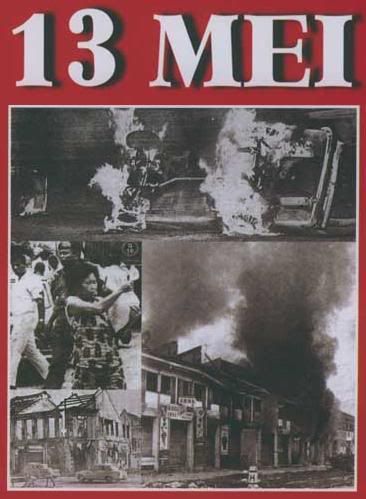 I hope I am not over sensitive in interpreting Umno's 66th anniversary celebration ended on May 13.
This is a strong signal to warn Chinese, you either vote UMNO or another May 13 awaits you.
UMNO sensed there is no hope Chinese voters will support BN, the police riot in Bersih 3.0 is last desperate attempt to warn Malaysian Chinese another May 13 is awaiting you.
Rural Malays and Indonesia turned Malaysians throw their support behind UMNO is not a question. UMNO is playing racial card and fear factor to influence urban Malays that only UMNO can protect them.
I let Malay themselves to decide their own choice and fate, but urban Chinese will abandon MCA en mass is a confirmed event to happen in the GE13.
Najib: May 11 mass gathering to prove Umno's strength

KUALA LUMPUR: The mass gathering scheduled to be held at the Bukit Jalil National Stadium in conjunction with Umno's 66th anniversary on May 11 is a proof of the party's strength to achieve victory in the general election, Datuk Seri Najib Tun Razak said.

He said the gathering would prove that hundreds of thousands of Umno members could gather in peace without posing any harm to others.

"I see that the birth of Umno, the party's 66th anniversary as an opportune time for us to hold a gathering because it's been a while since we have a mass gathering.

"It is timely for us to do so, and everybody knows that the election won't be too long into the future. So, it's just apt for us to showcase to the people what Umno has done all these years," he said in an exclusive interview with Umno-Online.

He said Umno members should also be proud to be part of the largest party in the country.

"I would like to remind us, all Umno members that this is a blessed party for the Malays.

"We have a sense of pride in Umno, that we are a member of a family which is the largest party in the country.

"We shouldn't feel insulted, we shouldn't feel pressured because everything enjoyed by the country today is in fact is a result of Umno's deeds, and those of Umno leaders, big or small, over the years," he said.

Umno's 66th anniversary celebration, themed "Umno: The People's Defender" will be held for 13 days starting May 1. – Bernama
Related Posts via Categories